Transfection reagents have become routine reagents for studying gene function in eukaryotic cells. Transfection reagents are widely used in gene function research, gene expression regulation, and mutation analysis, as well as protein production, and vaccine production.
For DNA transfection reagents and RNA transfection reagents, Yeasen has a strong R&D and production team, continuously optimizes formulas, improves production processes, and has launched a variety of products based on cationic liposomes and cationic polymers. Scientific research institutions and enterprises provide a full range of products, and the product line covers all fields involved in transfection reagents.
Note: Yeasen has launched GMP-grade Hieff Trans™ PEI Transfection Reagent (Cat#: 40821ES) for large-scale production of various virus vectors and transient expression of proteins suitable for adherent and suspension systems.
Some of the articles published using our products
High efficiency: suitable for transient transfection or stable transfection of cell lines.
Low toxicity: Transfected cells remain well-viable.
Wide adaptability: comprehensive coverage of common cells and difficult-to-transfect primary cells.
Easy to operate: suitable for medium in the presence of serum, without changing the medium before and after transfection.
Cost-effective: economical and practical, high transfection efficiency, low price.
The selection of transfection reagents needs to be comprehensively considered according to the experimental purpose and experimental content, such as the transfected substances, specific cells, and the convenience of operation. We have made the following distinctions for your reference.
A. DNA < 10 kb
Name
Nucleic acid
Cell type
Advantage
Cat#
Size
Hieff Trans™ Liposomal Transfection Reagent
DNA(< 10 kb)
Adherent cells
1. High transfection efficiency
2. Less dosage
40802ES02/03/08
0.5 mL/1 mL/5×1 mL
Hieff Trans™ Suspension Cell-Free Liposomal Transfection Reagent (Inquire)
DNA(< 10 kb)
Suspension cells
1. Specialized Transfection of Suspension Cells
2. Low toxicity
3. High transfection efficiency
40805ES02/03/08
0.5 mL/1 mL/5×1 mL
Hieff Trans™ Liposome Nucleic Acid Transfection Reagent is a versatile liposome transfection reagent, suitable for DNA, RNA, and oligonucleotide transfection, with high transfection efficiency for most eukaryotic cells. Its unique formula allows it to be added directly to the medium, and the presence of serum does not affect transfection efficiency, which reduces the damage to cells caused by serum removal. There is no need to remove the nucleic acid-Hieff Trans™ complex or replace it with a fresh medium after transfection, and it can also be removed after 4-6 hours.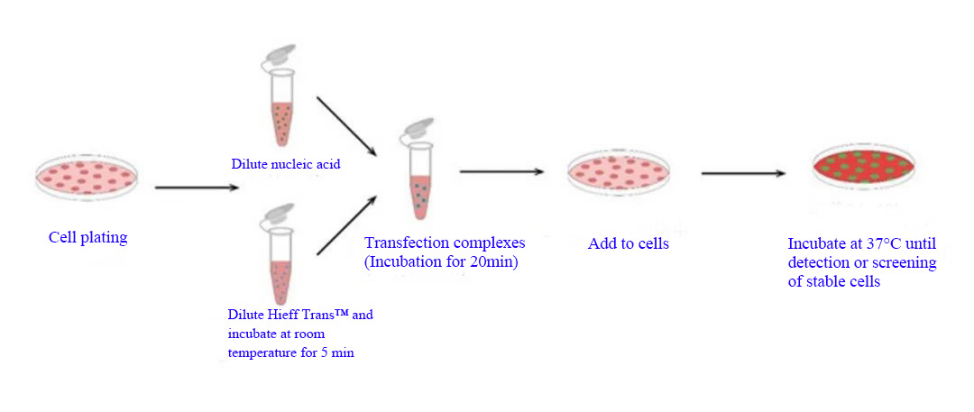 Figure 1. Hieff Trans™ Transfection Reagent operation flow map
Hieff Trans™ is supplied in sterile liquid form. Generally, for 24-well plate transfection, about 1.5 μL each time, 1 mL Hieff Trans™ can do about 660 transfections; for a 6-well plate, about 6 μL each time, 1 mL Hieff Trans™ can do about 160 transfections.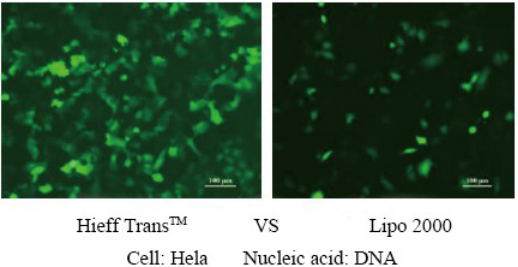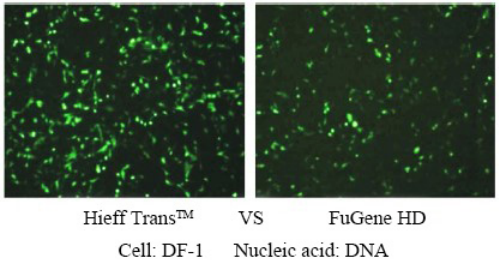 B. DNA >10 kb
PEI 40000 is a highly charged cationic polymer with a molecular weight of 40,000 that binds negatively charged nucleic acid molecules very easily, forming a complex and allowing the complex to enter cells. PEI 40000 is a transient transfection reagent with low cytotoxicity, high transfection efficiency, and high gene expression efficiency in cells such as HEK293 and CHO. It has been verified that the linear PEI transfection reagent is widely applicable to a variety of cell lines including HEK-293, HEK-293T, CHO-K1, COS-1, COS-7, NIH/3T3, Sf9, HepG2, and Hela cells. The transfection efficiency is as high as 80%~90%.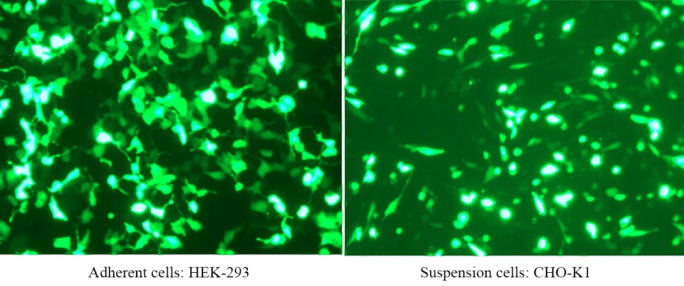 Hieff Trans™ in vitro siRNA/miRNA Transfection Reagent
Hieff Trans™ in vitro siRNA/miRNA Transfection Reagent is a PEI transfection reagent developed for the transfection of siRNA into mammalian cells. Suitable for transfection of siRNA and miRNA.
This product can achieve over 90% expression efficiency of 1 nM siRNA in a wide range of cell lines, avoiding off-target effects. Suitable for transfection of a variety of cells, including Hela, MCF-7, HepG2, CHO, and other adherent cells; and difficult-to-transfect suspension cell lines, such as K562 or THP-1 cells, can achieve 80% silencing efficiency; Including some primary cells, primary human fibroblasts and primary human hepatocytes, etc., the silencing efficiency of 80% can be achieved.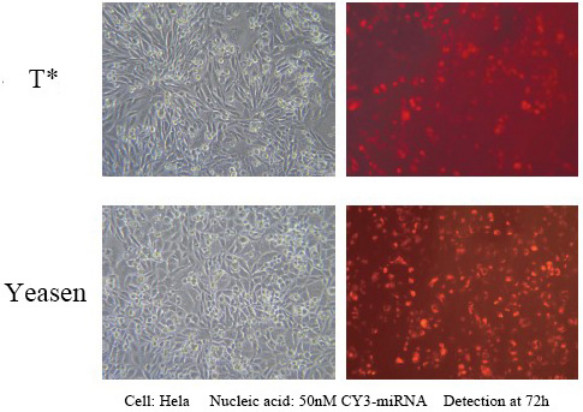 Name
Scenarios (including but not limited to)
Cell type
Advantage
Cat#
Size
Polyethylenimine Linear(PEI) MW40000(rapid lysis)
Viral vectors and Protein & Antibody Production
CHO series and HEK-293 series
1. High transfection efficiency
2. Less dosage
40816ES02/03/08
100 mg/1 g/5×1 g
[1] Liu R, Yang J, et al. Optogenetic control of RNA function and metabolism using engineered light-switchable RNA-binding proteins. Nat Biotechnol. 2022 Jan 3. (IF:55)
[2] Luo J, Yang Q, et al. TFPI is a colonic crypt receptor for TcdB from hypervirulent clade 2 C. difficile. Cell. 2022 Mar 17. (IF:41.582)
[3] Zhou J, Chen P, et al. Cas12a variants designed for lower genome-wide off-target effect through stringent PAM recognition. Mol Ther. 2022 Jan 5. (IF:11.454)
[4] Chen S, Cao X, et al. circVAMP3 Drives CAPRIN1 Phase Separation and Inhibits Hepatocellular Carcinoma by Suppressing c-Myc Translation. Adv Sci (Weinh). 2022 Jan 24. (IF:16.808)
[5] Gu C, Wang Y, et al. AHSA1 is a promising target for cellular proliferation and proteasome inhibitor resistance in multiple myeloma. J Exp Clin Cancer Res. 2022 Jan 6. (IF:11.161)
[6] Zhang Y, Yu X, et al. Splicing factor arginine/serine-rich 8 promotes multiple myeloma malignancy and bone lesion through alternative splicing of CACYBP and exosome-based cellular communication. Clin Transl Med. 2022 Feb.(IF:11.492)
[7] Qin J, Cai Y, et al. Molecular mechanism of agonism and inverse agonism in ghrelin receptor. Nat Commun. 2022 Jan 13. (IF:14.9)
[8] Tang X, Deng Z, et al. A novel protein encoded by circHNRNPU promotes multiple myeloma progression by regulating the bone marrow microenvironment and alternative splicing. J Exp Clin Cancer Res. 2022 Mar 8.(IF:11.161)
[9] Xie F, Su P, et al. Engineering Extracellular Vesicles Enriched with Palmitoylated ACE2 as COVID-19. Adv Mater. 2021 Oct 19. (IF:30.849)
[10] Liang Y, Lu Q, et al. Reactivation of tumour suppressor in breast cancer by enhancer switching through NamiRNA network. Nucleic Acids Res. 2021 Sep 7.(IF:16.9)
[11] Fan Y, Wang J, et al. CircNR3C2 promotes HRD1-mediated tumor-suppressive effect via sponging miR-513a-3p in triple-negative breast cancer. Mol Cancer. 2021 Feb 2.(IF:27.403)
[12] Dai L, Dai Y, et al. Structural insight into BRCA1-BARD1 complex recruitment to damaged chromatin. Mol Cell. 2021 Jul 1.(IF:17.97)
[13] Zhang K, Wang A, et al. UBQLN2-HSP70 axis reduces poly-Gly-Ala aggregates and alleviates behavioral defects in the C9ORF72 animal model. Neuron. 2021 Jun 16.(IF:17.17)
[14] Li T, Chen X, et al. A synthetic BRET-based optogenetic device for pulsatile transgene expression enabling glucose homeostasis in mice. Nat Commun. 2021 Jan 27.(IF:14.92)
[15] Yan F, Huang C, et al. Threonine ADP-Ribosylation of Ubiquitin by a Bacterial Effector Family Blocks Host Ubiquitination. Mol Cell. 2020 May 21.(IF:17.97)
[16] Sun X, Peng X, et al. ADNP promotes neural differentiation by modulating Wnt/β-catenin signaling. Nat Commun. 2020 Jun 12.(IF:14.911)
[17] Yang X, Wang H, et al. Rewiring ERBB3 and ERK signaling confers resistance to FGFR1 inhibition in gastrointestinal cancer harbored an ERBB3-E928G mutation. Protein Cell. 2020 Dec.(IF:14.872)
[18] Zou Y, Wang A, et al. Analysis of redox landscapes and dynamics in living cells and in vivo using genetically encoded fluorescent sensors. Nat Protoc. 2018 Oct.(IF:13.490)
[19] Hao H, Hu S, et al. Loss of Endothelial CXCR7 Impairs Vascular Homeostasis and Cardiac Remodeling After Myocardial Infarction: Implications for Cardiovascular Drug Discovery. Circulation. 2017 Mar 28.(IF:29.69)
Linear PEI MW 40000, a more efficient transfection reagent