High purity
IL-5 is a cytokine produced by activated Th2 cells that stimulates eosinophil growth and differentiation, exerts a biological role in the form of dimers, and is tightly linked by interchain disulfide bonds.

The purity of Human IL-5 (Cat: 90106ES) and Rat IL-5 (Cat: 90170ES) was greater than 98% as determined by SDS-PAGE(non-reduced and reduced) and SEC-HPLC.
It can be seen from the figure that the molecular weight of Human IL-5/Rat IL-5 is 26.5 kDa/26.2 kDa in non-reducing condition and 13.2 kDa/13.1 kDa in reducing condition, respectively. It was shown that recombinant Human IL-5 and Rat IL-5 has the correct dimer structure. The HPLC diagram shows that the purity of recombinant Human IL-5 and Rat IL-5 can reach 98% - 100%.
Higher biological activity
The biological activity of our recombinant proteins is typically detected using bioassays and indicated in the label with a specific active range/ED50.

Human BMP-2 (Cat: 92051ES) with different concentrations induced the production of alkaline phosphatase in mouse ATDC5 cells, and the results showed that biological activity of Yeasen Human BMP-2 was 1.5 times higher than that of brand P.
Human IL-8 (Cat: 90189ES) activity was measured by a chemotaxis bioassay using human CXCR2 transfected mouse BaF3 cells. The number of cells migrating to the chemotaxis chamber were measured. The results showed that the biological activity of Yeasen Human IL-8 was 6.4 times higher than that of the brand P.
Consistent with structure of native protein
IL-12 is a heterodimeric cytokine with disulfide-linked p35 and p40 subunits. Dimerism is a common form of regulating protein signaling, and only with the correct dimer structure can proteins exert the correct biological activity.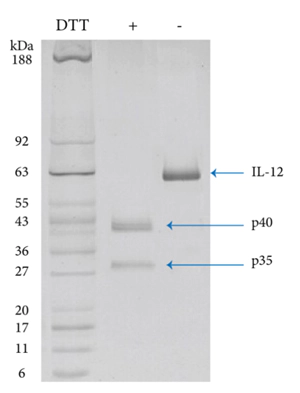 Recombinant Human IL12 was checked with SDS-PAGE under reducing and non-reducing conditions.
In non-reducing conditions , Human IL-2 (Cat: 90111ES) has an apparent molecular weight of 60 kDa. In reducing conditions, the heterodimer was separated into two mononers with molecular weight of 41 kDa and 29 kDa demonstrating Human IL-12 has a structure consistent with natural protein.
Please check product list for more informations