Hieff NGS mRNA Isolation Master Kit is a magnetic beads kit specially developed by Yeasen Biotechnology for purification of mRNA. mRNA Capture Beads are micron grade paramagnetic microspheres coupled with Oligo (dT). The mRNA with poly (A) tails is separated and purified from total RNA with good integrity of 10 ng-4 μg.
All the components are shipped with ice packs and can be stored at 2-8°C for one year. Avoid freezing!
Operating procedure of mRNA purification kit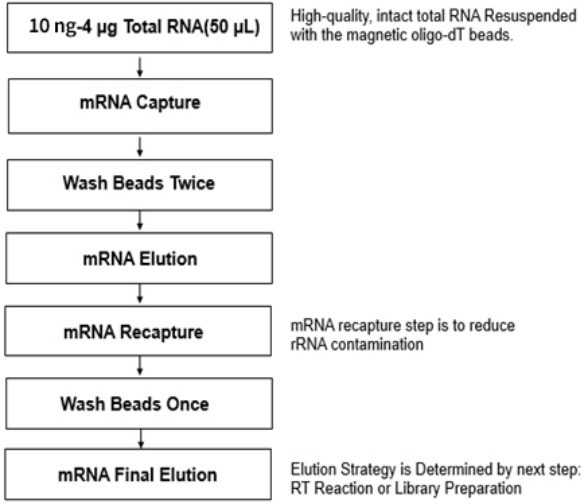 Cautions
1. For your safety and health, please wear lab coats and disposable gloves for operation.
2. Thaw components at room temperature. Once the components are thawed, mix thoroughly by vortexing, spin the tube briefly and place on ice for later use.
3. Please use consumables that are free of RNase contamination and clean the experimental area regularly. It is recommended to use ThermoFisher's RNAZap™ high-efficiency nucleic acid removal spray to remove RNase contamination.
4. Total RNA with good integrity and a RIN value of 7.0 or above is required for good purification.
5. For research use only!