Description
MycAway™ Mycoplasma Real-time qPCR Detection Kit is a product that can accurately detect mycoplasma and verify if there is mycoplasma contamination in the cell bank, virus seeds, biological products, and cells used in clinical treatment, etc. The kit uses the Taqman fluorescent probe and the polymerase chain reaction (PCR) tools to qualitatively detect the mycoplasma DNA in the test samples and can cover the mycoplasma DNA of over 100 species. The kit validation is performed in strict accordance with the mycoplasma testing requirements in EP2.6.7 and JPXVII and with high sensitives, specificity, efficiency, and safety.
The kit contains an internal control (IC), which can be used to determine if there is an inhibitor in the sample to the amplification reaction, thus preventing false negative results; The IC can also be added during the sample extraction step to evaluate the extraction effect. This kit is used in conjunction with the Mycoplasma DNA Extraction and Purification Kit to efficiently extract mycoplasma DNA with a detection limit of 10 CFU/mL and a maximum sensitivity of 1 CFU/mL.
Feature
Highly sensitive: The detection limit is as low as 10 CFU/mL
Remarkable accuracy: Probe-based detection avoided false positive problems caused by the dye-based method, and with excellent lot-to-lot consistency
Good specificity: Multiple closely related species were verified to have no cross-reaction
Compliance with regulatory requirements: Detection method and the procedure was verified according to pharmacopeia requirements (EP 2.6.7 Vs JPXVII )
Wide detection range of mycoplasma: Detect 105+ individual species of mycoplasma
Applicable to a variety of samples (Cell, virus, culture medium etc.)
High security: The positive quality control in the kit with no risk of infection
Facilitated operation: Detection can be achieved within 3 hours
Application
Components
| | | | |
| --- | --- | --- | --- |
| Components No. | Name | 40618ES25 (25 T) | 40618ES60 (100 T) |
| 40618-A | 4 × MyqPCR Reaction Buffer | 250 μL | 1 mL |
| 40618-B | MyPrimer&Probe MIX | 25 μL | 100 μL |
| 40618-C | Internal Control (IC) | 25 μL | 100 μL |
| 40618-D | Positive Control (PC) | 500 μL | 2 mL |
[Notes]: The conc. of the positive control (PC) is 1,000 copies/µL.
Shipping and Storage
All the components are shipped with dry ice and can be stored at -15°C~ -25°C for one year.
Figures
Various mycoplasma detection results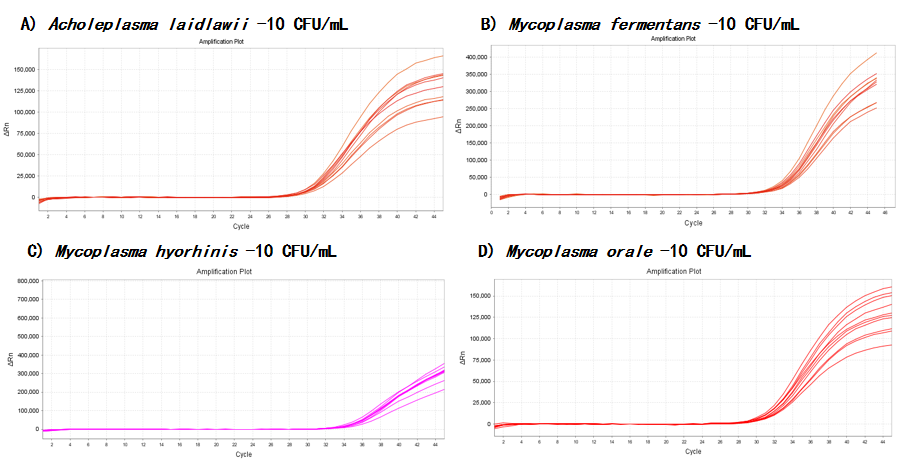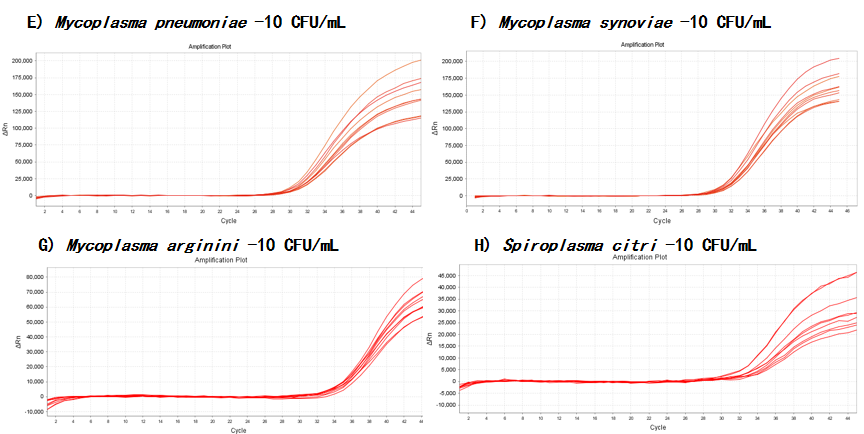 Figure 1. Various mycoplasma detection results were shown in Figure 1 with the detection limit as low as 10 CFU/mL. At least 105 species of mycoplasma could be detected by MycAwayTM Mycoplasma Real-time qPCR Detection Kit.