Description
2x HieffTM Ultra-Rapid HotStart PCR Master Mix (with Dye) is based on the modified Taq DNA Polymerase, adding strong extension factor, amplification enhancement factor and optimized buffer system, with super high amplification efficiency. The amplification speed of complex templates such as genome within 3 kb reaches 1-3 sec/kb, and that of simple templates like plasmids within 5 kb reaches 1 sec/kb. This product can greatly save PCR reaction time. At the same time, mix contains dNTP and Mg2+, which can be amplified only by adding primers and templates, which also greatly simplifies the operation steps of the experiment. Furthermore, mix contains electrophoretic indicator dye, which can be directly electrophoresis after the reaction. The protective agent in this product makes the mix maintain stable activity after repeated freeze and thawing. The 3'-end band A of the PCR product can be easily cloned into the T vector.
Features
The amplification speed is fast: simple templates can be amplified up to 1 sec/kb.

The Mix contains an electrophoresis indicator dye, which can be used directly after the reaction and is easy to use
Applications
Specifications
| | |
| --- | --- |
| Product specification | Master Mix |
| Concentration | 2× |
| Hot Start | Built-in Hot Start |
| Overhang | 3 '-A |
| Reaction speed | Rapid |
| Size (Final Product) | Up to 15 kb |
| Conditions for transportation | Dry ice |
Storage
The 2×HieffTM PCR Master Mix products should be stored at -25~-15℃ for 2 years.
Figures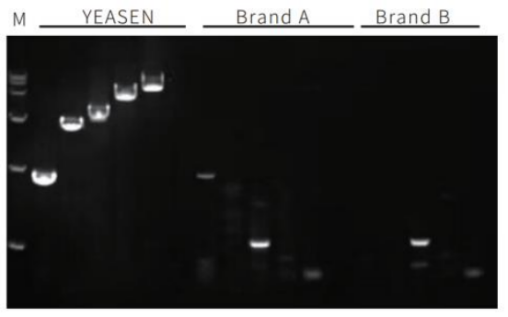 Figure 1 The target fragments with lengths of 1, 2, 3, 4, and 8 kb were amplified by using the human gene as a template.
The PCR reaction conditions used the PCR reaction conditions recommended by our company. After the reaction, 4uL was taken for electrophoresis detection. Marker: 15000 DNA marker.
Figure 2 10157ES03 was placed at 37℃ for 0d, 7d, and 14d product stability tests, and the template GC content was 30-70%.
The results show that the product performance is still stable after 14 days at 37℃, and the GC compatibility is very strong. M: 15000 DNA Markers.
Ver.EN20230822