As a sophisticated technology in biotechnology, high-throughput sequencing technology is increasingly widely used in reproductive genetics, prenatal screening, tumor concomitant diagnosis, early tumor screening, medication and screening for cardiovascular diseases, and pathogenic microbial detection.
Library preparation as an important link in next-generation sequencing (NGS), plays a decisive role in the quality of the sequencing results. The effect of fragmentation enzyme digestion, the ability of fragment dA-tailing, the efficiency of adaptor ligation, the fidelity of library amplification, ultimately determines the sequencing data quality, affects the accuracy of the report results. It is precisely because of the universal application of tumor drugs in end customers that the price, reporting cycle and quality of products are becoming higher and higher.
According to the different application scenarios, different technology platforms and different sample types, Yeasen can accurately provide customers with library preparation solutions. For tumor conjoint diagnostic service providers, Yeasen can provide corresponding library preparation products for Illumina and MGI platforms. There are various types of samples used in tumor diagnosis experiments: fresh surgical tissue, puncture biopsy tissue, paraffin-embedded fixed surgical tissue, blood gDNA, blood free DNA, hydrothorax and ascites sediment DNA, and hydrothorax and ascites free DNA. Select different library preparation methods according to different sample types.
A mechanical method library preparation scheme
The mechanical library preparation kit can be targeted at ultrasonic fragmented DNA, or blood free DNA or highly degraded FFPE sample DNA. Yeasen Ultima Pro All-around library preparation kit (Cat # 12197) can meet the library preparation requirements of the above sample types. This product adopts high quality enzyme composition, on the basis of the previous generation of library preparation kit, improve the DNA fragment end repair and dA-tailing efficiency, while improving the adaptor ligation efficiency. This kit uses a new high-fidelity enzyme that significantly improves amplification homogeneity and fidelity. The template input of this kit is compatible with 100 pg-1000 ng of all DNA samples.
Ø Higher library output:
Two different cfDNA samples were used as templates for 5ng input and number of amplification cycles 12 to compare library output and the base quality of sequencing data.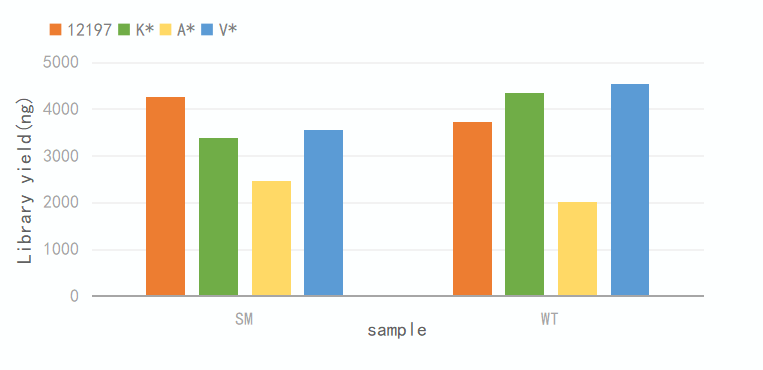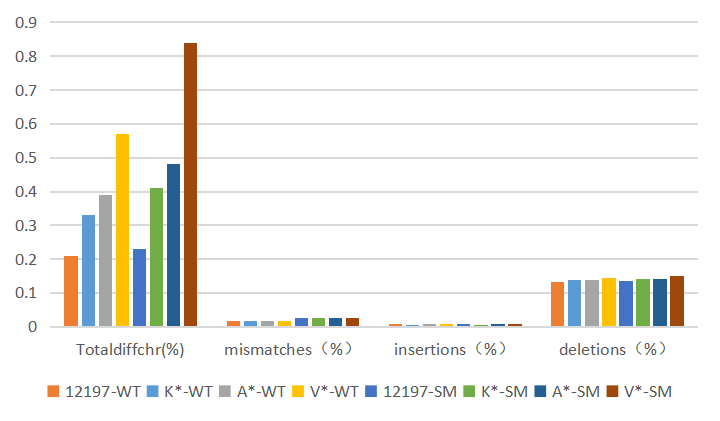 Compared to competing kits, 12197 sequencing data performed uniformly, with lower duplicate, higher mapping rate, less structural variants and less mismatch.
Preparation scheme of library construction by enzyme digestion method
The OnePot series of library construction kit by enzyme digestion is a new generation of library construction kit (Cat # 12205). Compared with the traditional mechanical library constructing method, the library constructing by enzyme digestion method gets rid of the complicated ultrasound process and simplifies the operation process. This product adopts high quality fragment enzyme, which combines fragment module and end-repair module into one, greatly reducing the time and cost of library construction. This kit has excellent library conversion rate, and can be applied to the construction of enzyme digestion library with 500pg-1ug starting template input of various sample types such as FFPE samples and gDNA samples accompanying diagnosis of tumors. At the same time, Yeasen can professionally customize the library construction kit matching the automatic library construction process for customers, providing a full set of solutions, so that high-throughput sequencing technology in genetic testing is no longer difficult!
Ø Product superiority: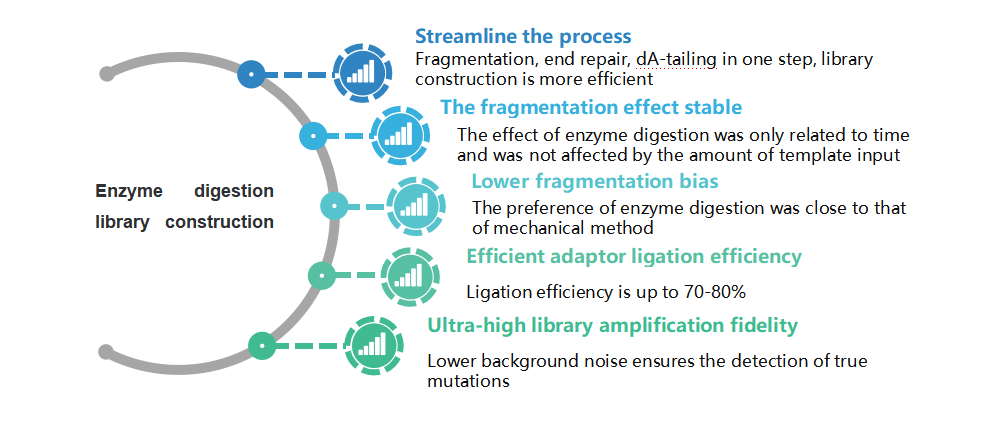 Ø Kit performance display:
1. Efficient and stable fragmentation effect
Human Blood gDNA was used as the template and digested for 12min at different inputs(20ng~1μg) using # 12205, and the digested products were purified and subjected to Agilent 2100 mass control. The results are shown in the figure below: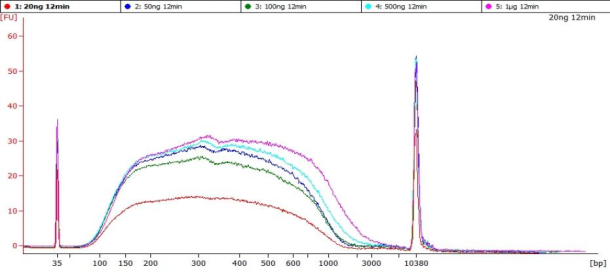 Sample:Human gDNA NA12878, Input DNA: 200 ng, Digestion time: 8 / 10 / 12 / 14 / 16 min, quality inspected by Agilent 2100.The results are shown in the figure below: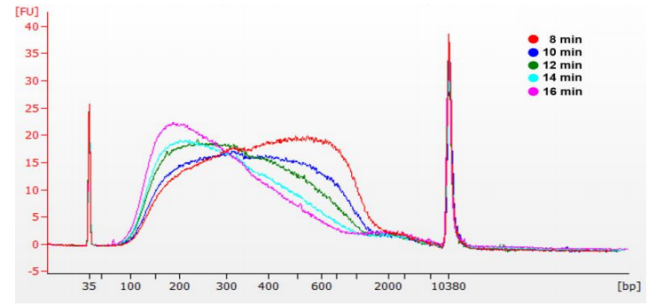 In conclusion:the digestion effect of the fragmentation enzyme was not affected by the template input, but only related to the digestion time.
2. The enzyme digestion bias was lower

As can be seen from the figure above, the preference of the fragmentation enzyme is consistent with the competing products.
3. High fidelity of library amplification
From the sequencing analysis of Lambda DNA whole genome sequencing, the results showed that Canace Pro fidelity is significantly better than that of the competing product.
| | | | |
| --- | --- | --- | --- |
| Sample | Mismatch(N/10000) | Insertion (N/1000000) | Deletion (N/1000000) |
| Canace pro | 0.7807 | 0.6210 | 4.1144 |
| K* | 1.6132 | 1.3446 | 9.3257 |
| V* | 2.6568 | 1.9719 | 11.3092 |
Product Order:
Classification

Product Name

Cat#

Specification

Mechanical DNA library preparation kit

Hieff NGS™ Ultima Pro DNA Library Prep Kit for Illumina® V2 (Inquire)

12197ES08/24/96

8/24/96T

Enzymatic DNA library preparation kit

12205ES08/24/96

8/24/96T

13321ES08/16/96

8/16/96T

End repair and dA-tailing module

Hieff NGS™ Ultima Endprep Mix (Inquire)

12605ES24/96/98

24/96/1000T

Fragmentation /End repair /dA-tailing module

Hieff NGS™ OnePot Pro Fragmentation Reagent (Inquire)

12619ES24/96

24/96T

Adaptor ligation module

12805ES24/96/98

24/96/1000T

Amplification module

Hieff Canace™ Pro Amplification Mix for NGS (Inquire)

12624ES24/96

24/96T

Cyclization module

Hieff NGS™ Dual Barcode Fast-Pace DNA Cyclization Kit for MGI®

13340ES16/96

16/96T

13341ES16/96

16/96T

Fragmentation enzyme

Hieff™ Smearase Ⅲ (Inquire)

13473ES24/96

24/96T

End repair enzyme

T4 DNA Polymerase (Inquire)

12901ES60/76/90

100/500/2000U

T4 Polynucleotide Kinase (Inquire)

12902ES76/86/92

500/2500/10000U

dA-tailing enzyme

Hieff NGS™ S-Taq DNA Polymerase for dA-Tailing (Inquire)

13486ES24/96/98

24/96/1000T

Adaptor ligation enzyme

10298ES40/42

40000U/400KU

Amplification enzyme

Hieff Canace™ Pro High-Fidelity DNA Polymerase (Inquire)

13476ES60/76

100/500U